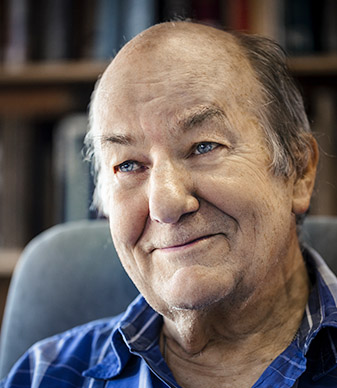 Emeritus Professor John J. Gurney
Founder of the Kimberlite Research Group
Geological Sciences, University of Cape Town
The First International Kimberlite Conference held at the University of Cape Town in 1973, generated enthusiasm and ideas that led directly to the formation of the Kimberlite Research Group (KRG) at UCT headed by Prof. John Gurney. The Group gained momentum in the eighties and nineties with a number of postgraduate students attracted to upper mantle research by the unique collection of research material available in the Mantle Room and the prospect of working with Prof. Gurney. Students who contributed greatly to the advancement of our understanding of the upper mantle and its processes through their PhD and MSc research projects included Wolfgang Berg, Roger Clement, Derek Robinson, Peter Rickwood, Paddy Lawless, Jock Robey, Steve Richardson, Chris Hatton, Paula Cardoso, Simon Shee, Rainer Jakob, Rory Moore, Melissa Kirkley, Fran Waters, Marshall Otter, Jenny Hops, Stuart Hill, Eva Stredder, Kalle Westerlund, Ingrid Chinn, Andrew Menzies, Trish Doyle, Megan Galloway, Karin Smit, Gail Kiviets, Steve Horwood, Neil McKenna, Chris Siebert, Jaziel Nkere and Miracle Muusha, whilst post-doctoral scientists Tom McCandless, Craig Smith, Karen Hoal, Maya Kopylova and David Bell further boosted various initiatives.
Internationally respected scientists such as Joe Boyd, Peter Nixon, Ben Harte, Barry Dawson, Herb Helmstaedt, Stephen Haggerty and Malcolm McCallum became regular visitors to the KRG to collect samples and conduct collaborative research. A number of these scientists completed extended stays at UCT undertaking sabbatical research projects. Over the years a total of 22 PhD and 25 MSc theses and over 100 peer-reviewed papers in international scientific journals have been generated by researchers and students in the KRG.
Today, the KRG is led by Phil Janney and Steve Richardson with active researchers including John Gurney, Beth Kahle, Richard Kahle, Trish Doyle and Geoff Howarth. Perhaps most significant of all is that spectacular progress has been made in upper mantle research over the past 4 decades, including our understanding of the evolution of continental keels and the age and origin of diamonds.